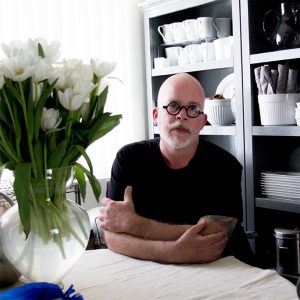 Artist – Biography
Curry Mendes was born in Beacon, New York and raised in Naples, Florida. While attending Naples, High School, by his senior year was mostly attending Advanced Placement Art Classes. Working mostly with watercolor and pencil he won multiple awards and scholarships. He is now a local Palm Springs resident.
Attempting to honor his father's wishes and not going to College for Fine Art, he attended Ringling School of Art& Design with a Major in Interior Design. Curry was selected for "Best of Ringling – Rendering – 1989 . He became a top seller at the Ringling Art Fair two years in a row. Attending Ringling and having regret with his career path choice, he was told by a teacher at Ringling that school does not make someone an Artist and it is a talent that lies within, so just keep doing art all the time and you will have all you seek. (The best advice I have ever received in my life)
Upon graduating Curry immediately moved to New York City with much encouragement from his Art Collectors and Family.  Once realizing the cost of living in New York the art went on hold, in order to pay the rent, he started his career in Interior Design which lasted about 5 years. Eventually the need to continue his education won the best of him, so he attended Columbia University for a certificate in
computer science. Learning computers and all they have to offer, Curry began a career in digital illustrating and programming. Designing user interfaces for interactive education tools. The start of Curry & The Digital Age.
Then, the infamous day of Sept. 11, 2001. Being there and witnessing such an act, left Curry packing and moving a bit more than an hour north to Beacon, New York. A small town on the verge of becoming a "beacon" of art with the opening of the largest contemporary art museum, the DIA-Beacon.  Curry's Art was about to become a new freedom and a new happiness like it has never been before.
With all the time one could imagine on his hands, from city living to country living.  The creation of art was his only priority.
Now years later … completely in love with digital creation and it is still the biggest part of my life.  I have found no boundaries pleases me the most.   I would have never imagined my paper collage to
develop the way it has. It is one of my biggest form of meditation to date.  The natural process of feeling of paper in my fingers feels great and brings this natural state of beauty.  It has a limited color palette and I find it brings out more creation to make something to be charished.  I love this process of purity and paper.  Coloring outside the lines and seeing what develops.  I have no idea what will come, but I am in love with my life as an artist.   I hope you can see and feel it in my work.
NO RULES, NO LIMITATIONS …  Just PURE JOY!
Curry is a storyteller, though portraiture. It is the people in our lives that make us truly wealthy. Without anyone to share a story there is no story to tell.