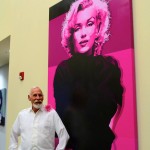 All I know is that I LOVE IT!  I love people posing with my art.  One it helps show scale and two well they must really love it!   My art is often very large and with large means it cost more to produce and is typically smaller in it's edition of limited edition.  So, I understand if everybody does not have room for my art in their home or possibly Wallet.
My art brings me so much Joy and I love it when people light up and ask me questions or tell me how much they love it.  So posing with it is wonderful.   It being me much happiness to see people enjoying my work.  So if you are reading this and ever make it to an exhibit or a reception and snap a photo of yourself with my art please send me a picture.. as you now know I love it!!
This image is from my Hollywood Glam Show at the University of California – Riverside.