New Art Projects
Take a look at some recent art projects.
Some Other Stuff
What else is going on here

The Process
This will contain the story of how Digital Mediums came about and the love of Paper Collage.   Check back soon.

Commissions
Commissions means your ideas with Curry.  Your Portrait or Paper Project or something completely different.  I highly recommend a sit down and discussion of your project or ideas.  More information to come.

Contact
Please get in touch with any inquiries. Looking forward to hearing from you. Click to Send Curry an Email.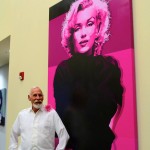 All I know is that I LOVE IT!  I love people posing with my art.  One it helps show scale and two well they must really love it!   My art is often very large and with large means it cost more to produce and is typically smaller in it's edition of limited edition.  So, […]
Quotes
Inspiring words from Artist I admire.
"Mistakes are almost always of a sacred nature never try to correct them on the contrary rationalize them understand them thoroughly after that, it will be possible for you to sublimate them."

- Salvador Dali

"The purpose of art is washing the dust of daily life off our souls."

- Pablo Picasso

"Since people are going to be living longer and getting older, they'll just have to learn how to be babies longer."

- Andy Warhol

"I continue to get further away from the usual painter's tools such as easels, palettes, brushes, etc…"

- Jackson Pollock

"At the end of the day, we can endure much more than we think we can."

- Frida Kahlo

"Art enables us to find ourselves and lose ourselves at the same time."

- Henri Matisse